AUTUMN TERM 2 NOVEMBER/DECEMBER 2017
HOMEWORK AUTUMN TERM 2 NOVEMBER 2017/DECEMBER 2017
AUTUMN TERM 1 SEPTEMBER/OCTOBER 2017
HOMEWORK AUTUMN TERM 1 SEPTEMBER/OCTOBER 2017
PREVIOUS EVENTS IN SWALLOWS:
We were visited by the Raptor Foundation as part of our Animal Magic topic.
'It was great fun finding bones in the pellets' - Alexa'J
'My favourite part of the session was holding Albert, the thickness of her feathers was amazing!' Layla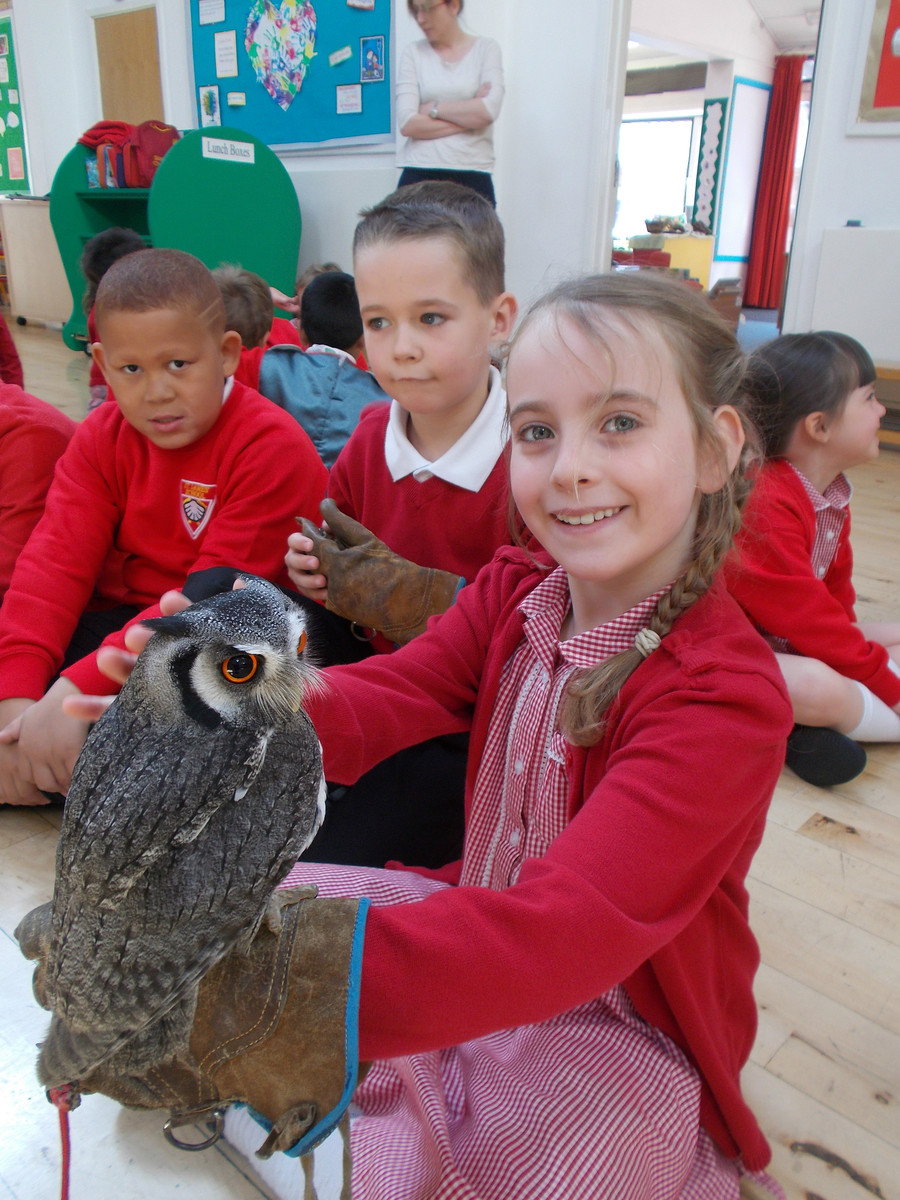 Last Friday we went to Quad Athletics.
We competed against other schools in four different activities. 400m - the children displayed great courage and all completed. Javelin throwing, 70m sprint and standing long jump.
'It was great fun I didn't realise I could run that distance - I came 1st' Rebecca
Swallows Class are enjoying learning about the Polar Regions in our topic Poles Apart. Our learning journey began when a penguin was found wandering outside Whipsnade Zoo and a letter was sent to us asking the children to help them find out where the penguin came from. The children researched and discovered that the penguin came from Antarctica. We have painted landscapes of Antarctica so that Poppy (the name given to the penguin) didn't feel homesick.
I am so pleased to tell you that all the Swallows chose to adopt a penguin rather than receive chocolate for Easter. An Adelie penguin who we have named Paddy, is our adopted penguin for a year. You will get to meet Paddy as the children will be taking him home with them each weekend.
In English the children have been writing persuasive letters to their parents persuading parents to let them choose their own bedtime at the weekend. Kennings poems and non-chronological reports based on an animal that they chose from the Polar Region have also been completed. "I found some amazing facts about penguins, did you know that the male penguin looks after the egg?"
In Maths the focus has been numbers and calculations solving word problems. "Column addition is great I can add 4-digit numbers."